Pricing and Estimates

We are most proud to offer to our Military Families 10% off all AOK summer and winter services.
Thank you , and we salute you.

---
TIP TO REMEMBER:
At AOK we don't often barter, we can't! The reason is we are already giving you the best deal on your service possible.
That's the sign of a good honest business!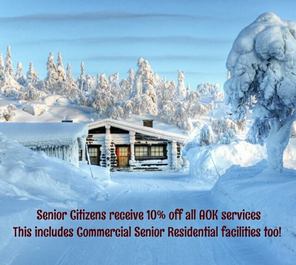 At AOK we have a real soft spot for our customers with a little more life experience. We graciously offer 10% off all AOK summer and winter services.
Don't forget, this includes residential complexes and nursing care facilities too. We have plenty of them on the AOK customer list, and believe me when I say we thoroughly enjoy and appreciate the goodies at break time.

---
Prices on all AOK Services vary. Just give us a call for more information and your free no obligation estimate. (705) 424-7313
You can also use the various ways around our website to contact us if you prefer.