We are pleased you came to visit. Let us help you find what you need.

AOK's High Pressure Cleaning Specialists have been providing quality services to
Ontario's Commercial, Industrial and Marine industries for 19 years.
With our wide range of Interior and Exterior Residential repair, renovation and cleaning services you are sure to
find exactly what you are looking for.
Professional and friendly service, amazing results and competitive prices make AOK, south central Ontario's choice for
mobile cleaning, contract services and the trusted name in the removal of rooftop snow and ice.

Just call for your free no obligation estimate 705 424-7313
or contact us with any of our quick links below

We make it easy for our customers... From Rooftop Snow and Ice Removal, to Pressure Washing and an abundant list of home repair services, including shingle replacement, roof alterations and ventilation upgrades, interior carpentry services, flooring installation, right down to prep and painting; we leave no one behind... well, maybe the competition.

We can help from start to finish. Let's Go find your service!

---
Winter Services are now in full swing November 15, 2017- April 15, 2018
Ontario's Most Trusted Rooftop Snow & Ice Removal Specialists

Convenient and Safe Removal of Snow & Ice From Your Rooftop
Quality Workmanship Guaranteed Serving Ontario since 1999


Follow our FB Page for daily updates and helpful tips to keep you safe!

---
AOK Seasonal Articles, visit our Blog to read full stories

When Should I Call? Should I Wait? How Can I Save?

January came in much like a

Tasmanian Devil

leaving the

Lion

to potentially enter or exit in the months ahead - with the exception, of January into February as we are being told. With a down pour of freezing rain which came to the greater part of Ontario this week I think it's a good a time as any to help customers or would be potential customers to understand the particulars surrounding AOK price estimates, expected times slots necessary for service, how you can save $ and when it's a good time for you to make that call.

Read More...
---
Another Winter Strikes Hard & Early for Ontario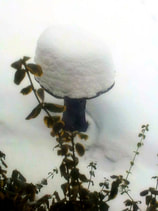 It seems like each year winter makes her appearance earlier and earlier and never so gently anymore. We accept the things here in Ontario that we cannot change, but sometimes Mother Nature still succeeds to shock us.
Read more....
---
---
With 40 cm of snow on a 24ft surface weighing in at 12 tonnes we at AOK, had nearly 24 tonnes of snow on our roof by Saturday afternoon.

inter Says "I AM HERE!" in Ontario. Some may say we were blessed with a mild short winter last year, but I guess that's a relative term. Being Canadian means we have the opportunity to enjoy 4 glorious, colorful seasons and our winters are just a part of the package with an abundance of outdoor winter activities .
Winter has made her first appearance and she didn't bother to knock at the door but rather barge right in with a vengeance.
Here in New Lowell, Ontario we recently received a taste of what the upcoming season has in store for us. Hard and fast- the white stuff fell between December 8-11th slamming us with in upwards of 76+ cm, while surrounding communities as close as Angus, Stayner and Wasaga Beach follow close with an accumulation just a few cm's less.
For the first time in our history AOK was it's 1st customer of the winter season. Read More....
---
---
Your Roof Protects Everything In And Around Your Home And No One Knows Your Roof Like AOK!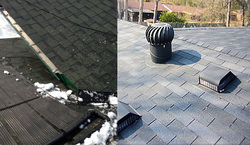 Whether your home needs an entire new roof system, a more modest task of re-shingling, or simply an improvement to your ventilation system up there we have a solution for you.
In our 16+ years of business AOK's highly skilled technicians have seen and serviced just about everything when it comes to Ontario's Residential and Commercial roofing systems. With far too many of Ontario's worst, being found on our winter time customers' homes. From patch jobs… to do it your self-jobs… to just simply fly by night jobs gone wrong; improper roof elements and misguided beliefs are why 90% of our winter rooftop snow and ice removal calls end up in emergency status. Read more....

---
---
This is what over 20,000 lbs of ice removed from an aluminum roof looks like! The family was very fortunate to avoid disaster before AOK got them all cleaned up!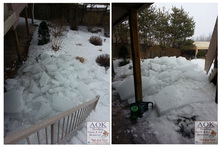 You read it correctly... This is what 11,000 kg of solid condensed ice looks like coming off of an aluminum roof! This is just a sneak peak of these service pics. Home owners Take note- Noma moon rays still peek out of the ground, unharmed (of course) and the wagon frozen to the ground was covered with protective shield by our team, all work is done and not even a wheel out of place. That's how it should be, and with AOK... that's how it always is :)
Read more...

---
---
Roof Leaks are plaguing homeowners this year, in Ontario.
AOK Rooftop Snow and Ice Removal Technicians can help you get those leaks under control, the safe and worry-free way! Read story in our blog...Are you pursuing an insurance claim due to leaks? If you have contacted insurance to help you repair and rebuild, they will instruct you to first, rid your roof of the existing problem to allow for the claims procedure to commence. That's where we come in, we've helped customers through this for 15 years. Give us a call and see how we can help and visit our Winter Services Page.

---

---

"In the 10 years we've owned this house, this is the 1st year we've had to clear our own roof. Mother Nature bites hard this year."

The Snowfall in Ontario has been overwhelming and the rooftop ice problems for so many are like never before. Collapsed roofs, emergency calls, dangerous leaks and potential fire hazards are at constant high speed flow day and night to our office. Some days it's been a true struggle to keep up with all the panicked customers. We always prioritize our service order by leak status, we want to keep everyone safe! It's been really difficult when 90% of our calls are leaking...
Read more

...

---

---

Fixing your home due to heavy ice loads and roof leaks? When Insurance companies assign a restoration company to begin the process of drying and repairing, they can't usually help until the problem on your roof is dealt with.

First you start with an average winter snowfall, followed by a little more more and then a little more. This year in Ontario has been absurd really. With 40 cm of snow and ice on your rooftop weighing 12 tonnes across a 24 ft surface it doesn't take much to put your family and home in a dangerous predicament. We at AOK have never before seen such an abundance of calls due to pressure cracks like we have this year. Then we face a small rise in the mercury and the once thick looking snow, seems well not so thick anymore! This is the biggest misconception of all...
Read more... of this article and our tips to give you peace of mind
4 Easy Winter Damage Home Repair Steps - Restoration Made Easy

---

---

With the snow and bitterly cold temperatures saying their final farewells for the 2014 season, it's full steam ahead for AOK Services and it's time to raise the roof. Roof repairs, installations and alterations are now a serious focus for homeowners who have been a victim of Mother Nature's fury and seeing the importance of upkeep to your homes roof system has never been more clear. In our many years of service we have become Ontario's most trusted name in winter time roof care of snow and ice removal.
We know where the problems are that cause you ice damming, leaks and complete rooftop issues.
Experience speaks for itself! And AOK taking care of all of your roof top needs just makes sense. Don't take our word for it, just ask around. read more... visit our blog for this and more interesting articles and tips.

---

AOK is proud to offer Hope For A Better Future, with our 2nd Chance Club


Has your home or commercial building been a victim of graffiti? Did You or the Police catch them in the act or fleeing from the scene? Consider an alternative to proceeding with criminal charges for youth 18 and under. AOK will visit with you to discuss the option of free graffiti removal, assisted by the alleged, to avoid proceeding with legal action. Thus, preventing a child or youth obtaining a criminal record. If we all do our part think of the difference we can make.
view more information about this program.

---
---