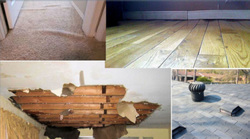 From Rooftop Snow and Ice Removal, to Pressure Washing and an Abundant list of home repair services, we leave no one behind... well, maybe the competition.
The 2014 winter season has hit Ontario hard, and we at AOK have seen our customers through winters wreaking havoc on homes. But, I don't think any compare to this winter we are just starting to put behind us.

Over the years we've increased our list of services to include just about everything our customers have needed to restore their damaged home into the pride and joy they once knew. We've worked to build a trusted name in the community that customers know they can count on. Known for our honest professional services, competitive pricing and quality workmanship guaranteed; have made us not just a name to be proud of - but a established family run business.
We are happy to provide guidance to customers with Insurance claims, sometimes for many it just seems overwhelming.
Our services include interior repairs, renovations and installation of fixtures, drywall, flooring and carpeting. We provide interior painting and carpentry services, exterior roof repairs, installations and simple upgrades to your existing roof's ventilation system.


We are here to help.
Our existing customers know this, but I just want to make sure that you do.
Visit us to learn more about us www.aokpressurewashing.ca